i can't believe it's been over a month since my last post! back from our renovating adventure with ceilings now apart, electrical issues and so much more. i was hoping we'd have it all done by now, but that looks more like a summer adventure ahead. so i'm going to try to get back into posting in between reno jobs; work and the odd hopeful visit to the beach.
in my absence i managed to find a few good design things to share. first off with a detour to
fontoville
and some
surfing baby
and
vertigo
freebies for my alphabet friends!
and if you're really serious about it you have to take a look at the "unfreebies"
carumba
(love that word!) and
elvis in stereo
fonts!
some beautiful textiles coming out of toronto right now by illustrator,
virginia johnson
, former accessories designer for helmut lang.
according to
canadian house and home mag
, she is next focusing on developing housewares like quilts, ceramics, oven mitts and towels. her pillows now out are available at l'atelier, toronto (416) 966-0200.
i'm all about these
posters
from
hammerpress
out of kansas city.
designsponge
did some great coverage of their work at the
national stationery show
in ny last month. read her article
here
.
amazing typography.
i like the idea of
cath kidston
being laura ashley's trippy fun cousin as commented in a recent post at
apartment therapy
.
her
cowboy wallpaper
is one of my faves.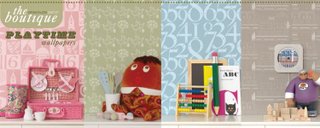 speaking of children's wallpaper,
absolute zero
has some fun
playtime wallpapers
perfect for the nursery. the paper is wipeable (bonus!) too.
so much to catch up on and design to talk about i can't believe how much can happen in less than a month! looking forward to getting back on track!